Today, Wednesday 8th March sees the world come together to honor International Women's Day. To celebrate the achievements of EnerMech's leading ladies, we will be sharing their stories and why days like this are so important to mark.
With a wealth of expertise across its operations in 28 countries, EnerMech places talent and culture at the very heart of its activities, and this includes ensuring there is a diverse mix of colleagues all with a high level of skill and experience to deliver an integrated and varied program of work for clients, 24/7.
Providing equal chances are pivotal for building sustainable career opportunities to both retain personnel at any organization as well as develop future industry leaders, but no more so than at EnerMech.
Phil Ogden, Chief HR Officer commented: "We are proud of the talent we have in each region and have placed people at the center of our 2023 business strategy as we believe that diversity and inclusion is fundamental to attracting and retaining personnel and driving our success."
"All over the world we have exceptional women motivating others and delivering fantastic work that is helping to shape our business for continued growth."
"This International Women's Day, we are celebrating some of our exceptional female members of the team who have carved their own paths and are inspiring others. It's important on day's like today to recognize the journey they've made so far and provide a platform for them to pass on their advice to encourage others across team EnerMech and the wider industry."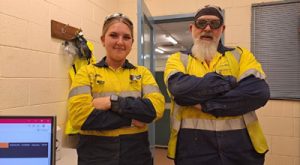 Tia Holt [PW1] – apprentice sheet metal fabricator light and a Menang Noongar Indigenous Woman
Tai studied the Noongar culture as her school had an indigenous girls' program "Girls Academy", which provides a safe space for all the aboriginal girls who attended. The academy was there to build friendships and encourage its pupils to succeed.
After her graduation, Tia worked in retail until she was 17 before joining EnerMech as an apprentice sheet metal fabricator light. She recognized her need to work in an industry where she could be 'hands-on' and this position suited her passions.
Tia's stand-out moment so far has seen her awarded apprentice of the year and was the only female to be presented with the accolade. She received this only having been in the role for a short time.
Team EnerMech has been supporting Tia's journey on-site. Her leader always steps up to provide guidance and is a big advocate for her development. As an Indigenous woman, a supportive and culturally understanding workplace is important. Tia's mentor also reassures her that it is okay to be herself and express herself culturally.
Her advice for other women considering a career in this sector would be: "Don't be afraid and second guess what you think the outcome would be because the outcome could be different. Be vocal, tougher and yourself."
We asked Tia about her take on this year's theme, 'embrace equity' and how she is contributing to this through her work at EnerMech:
"I was really shy at the beginning, so the team have taught me to use my initiative and don't wait to be asked to do something. It's about give and take in the work place, and accommodating for each other's strengths and weaknesses."
Claire McKay – proposals coordinator
"I ended up at EnerMech because I was looking for growth in my career and my previous employer didn't have the opportunities I wanted."
Claire works as a proposal coordinator for EnerMech. Her role utilises the experience and successes she has gained through the administration roles she held in the property industry whilst winning state receptionist of the year and national receptionist of the year.
EnerMech has been supporting Claire's journey and has identified key training opportunities to further her progression. She added: "My mentor in the office is our senior proposals coordinator and they are always available to me. Having someone so experienced guiding me through the role has really helped to make the transition from reception administration into a high paced proposals environment."
Claire reflects on what International Women's Day means for her:
"It is a singular day to reflect on the fact that we have come somewhat of a distance, but recognizing we still have large way to go. It is an opportunity to highlight the issues and properly acknowledge the plight of females in male dominated industries."
Her advice for women considering a career in this sector is: "Just do it, make the change."
Zenith Dumbleton – apprentice fitter and turner
Before joining EnerMech, Zenith worked in roles across retail and held team leader positions, dealing with customers, staff and attending meetings. However, she realised this wasn't what she wanted to do long term.
Zenith is now an apprentice fitter and turner at EnerMech where she works across gas plants on key projects for the company. She's been at the firm since last year and wanted to learn something outside of her comfort zone whilst establishing her career.
Working to support Zenith's development goals, EnerMech has provided opportunities to work on-site within its projects and taking on more responsibility as she progresses through her career.  She adds: "As an apprentice, I have used all the skills I learned in my previous retail roles to really help me really engage with my clients."
Zenith's advice for a woman considering a career in this sector:
"Take every opportunity you can because you never know where it could lead, even if it is a male dominated industry, you can still be well respected and learn a lot."
We asked Zentih what International Women's Day means to her:
"It means to me that the gap is closing with men and they are embracing people like me into the workplace. We are one step closer to having a gender-equal workplace."
Here's what Zenith's client, John Morton Frontline Maintenance Planner, said about her input:
"The GLNG maintenance and planning team have widely recognized Zenith's high-quality performance and innovative thinking across our PSV (pressure safety valves) maintenance campaign.
"One such recognizable success is where Zenith identified an opportunity to create system improvements to ensure the maintenance team could quickly and easily identify the status of each PSV as it goes through the maintenance process.
"Zenith's initiative and innovative thinking has been so welcomed on site, she has brought increased efficiency and support to the GLNG maintenance."
Kasey Hawkins – NDT trainee/technical assistant
Like a lot of young women finishing school, Kasey wasn't sure what kind of career she wanted. She moved through a number of roles in hospitality and retail, whilst volunteering at a hospice before landing her role as an NDT trainee for EnerMech. The opportunity came about after she supported on a shutdown that piqued her interest in the sector.
Key moments in her career to date have come in the form of passing her qualifications and being recognized by colleagues for her work.  She added: "It makes me feel like I'm truly growing and developing as a trainee in a career that is in a traditionally male dominated field."
Kasey attributes having a good mentor key to her success. She said: "It can be overwhelming with everything there is to learn in this industry, so having someone to mirror and ask questions is a very effective way to learn. I am so lucky to be able to learn and bounce ideas around with different bosses in our company."
We asked Kasey, what does International Women's Day mean to you?
"To appreciate how far women have come with getting their power and voice heard, gaining some equality and bringing awareness to the hardship that we, used to, and still go through to this day."